Street Furniture
Stonecept manufacture contemporary street
furniture from stone benches, planters and
bins using Glass Fiber Reinforced Concrete.
Street furniture can incorporate both GFRC
and Irroko Hardwood to give a contemporary,
modern look.
All our products can be manufactured with
different textures such as polished, fair
faced, exposed aggregates or sandstone
finishes.
Pebble Seats
Stonecept manufacture bespoke large pebble
seats using pre-cast concrete with a selection
of marble aggregates which give the aesthetics
of real pebbles both in shape and texture.
Using
various
polishing
techniques
each pebble
is finished by hand to give a
smooth
natural
pebble
stone
finish.
Our pebbles are used as seats for both public
and private areas and are also used as
decorative features.
The pebble seats are made in different shapes
and sizes and can be produced in various
colours.
Easy Fit Bollards
Stonecept has developed there
own easy to fit bollard systems.
Our bollards comprise of a combination of
precast concrete, stainless steel and
hi visibility tape.
With this unique system our bollards can be
fitted by one man without the need of heavy
lifting equipment compared to traditional
concrete bollards.
This system also enables the bollards to be
placed above ground rather than set into the
ground.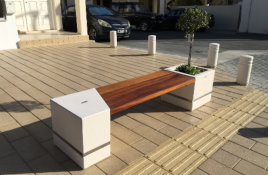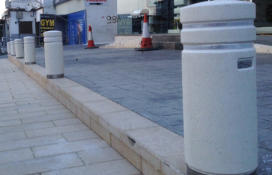 Memorials
At Stonecept we manufacture pre-cast
memorials for public areas which incorporate
both glass fiber reinforced concrete and sign
written glass or stainless steel.
Bespoke Water Features
Stonecept fabricate custom made water
features taking into account water flow,
pumps, water top up, drainage, overflow
pipes, lighting and access panels.
Commercial Paving
Whether contemporary or traditional paving
stones, with specific attention to detail such
as textures or colour, Stonecept can help
create the look you require.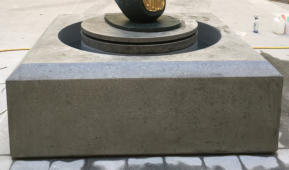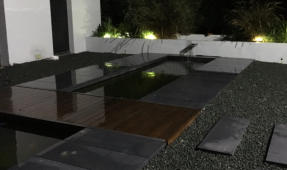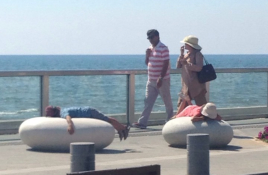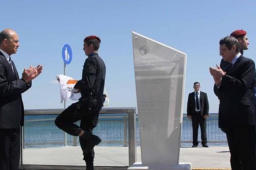 bringing stone concepts to life.

Concepts - Designs - Prototypes - Moulds - Manufacture